Energy saving cooling tumbler®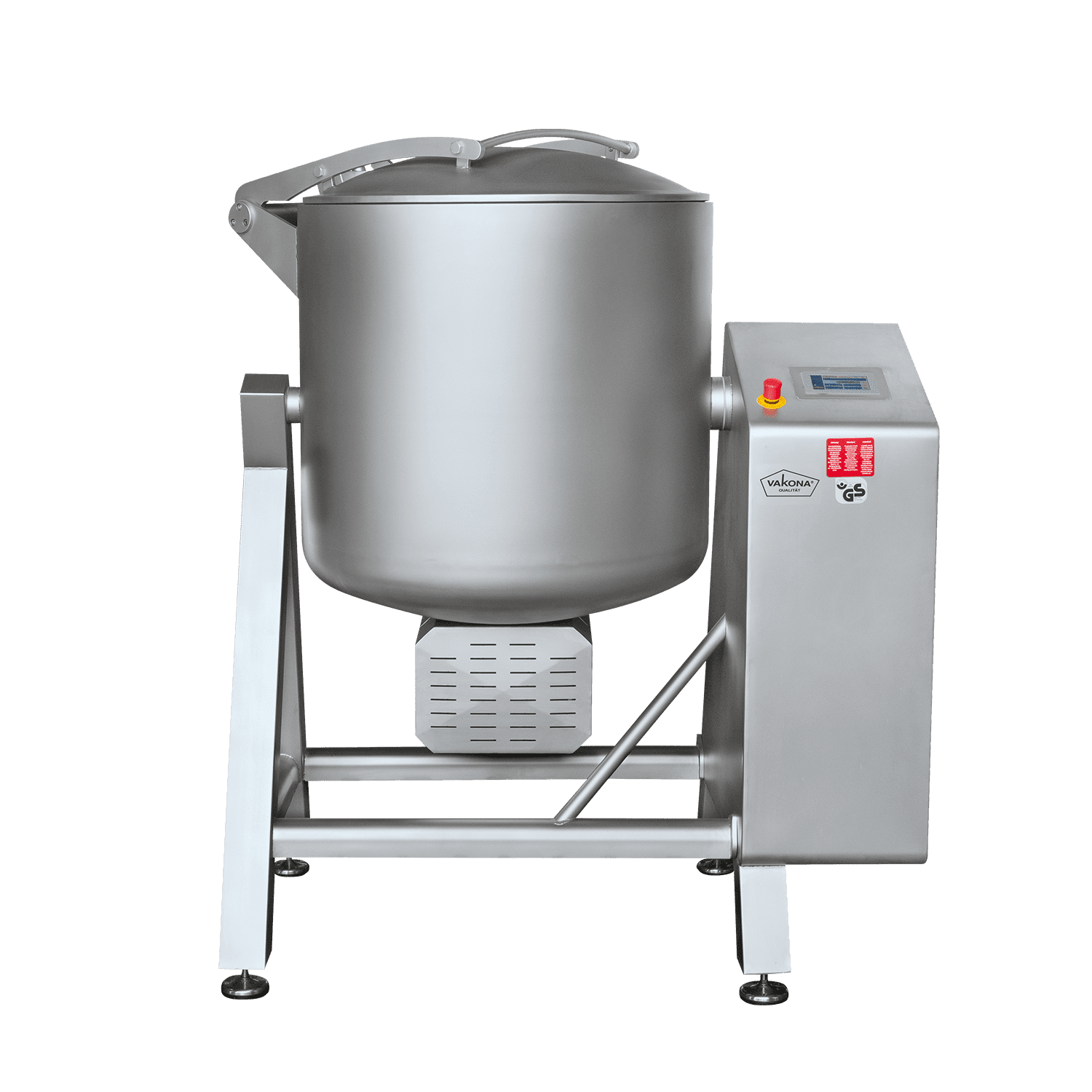 Energy saving cooling tumbler ESK® 300–400 STL
VAKONA Energy Saving Cooling Tumblers are designed for the operation in the food industry, especially for the field of meat, poultry and fish processing. They are suited for the massing, mixing, massaging, marinating and tumbling of all kind of meat-, poultry and fish products.
The machines captivate with a high user friendliness which is achieved by a plain handling and easy cleaning. A high individualization of the machines is reached by a wide range of equipment options, in order to achieve the highest possible degree of customer-specific product optimization.
Standard equipment:
Bowl, machine cabinet and frame made from stainless steel
machine stationary
Touch screen control unit for automatic and manual operation
Memory for up to 99 recipes with free adjustable parameters: total-, working- and pause time, rotation speed, temperature, vacuum level, aeration intervals, bowl angle position and automatic bowl sway mode.
Rotation speed of the tumbling arm variable adjustable from 3-18 rpm
Direct cooling system with powerful cooling aggregate and heat exchanger in double jacket bowl, made from stainless steel
Vacuum system including high performance vacuum pump, automatic and programmable aeration cycles, aseptic filter for sterilization of aeration air, hygienic automatic water separator
Electrical, infinitely variable tilting of the bowl for emptying of the machine
Electrical lid operation
Accessories:
Stainless steel tumbling arm, including scraper with press-button-system

Tool for scraper fixing
Technical data:
3-N-PE, 400 V, 50 Hz, 16 A (ab ESK 1200 = 32 A)

Bowl volume:

Capacity: approx. (depending on product)
Capacity of the energy saving cooling tumbler ESK®
dimensions / weight
Attention: All given data are guide values, depending on the product.
Due to the high versatility of optional equipment and modification of the VAKONA energy saving cooling tumbler, please contact us for further technical information, dimensions and weight.
Dimensions and Technical Data – Technical alterations are subject to change – Exact mounting dimensions should be obtained.