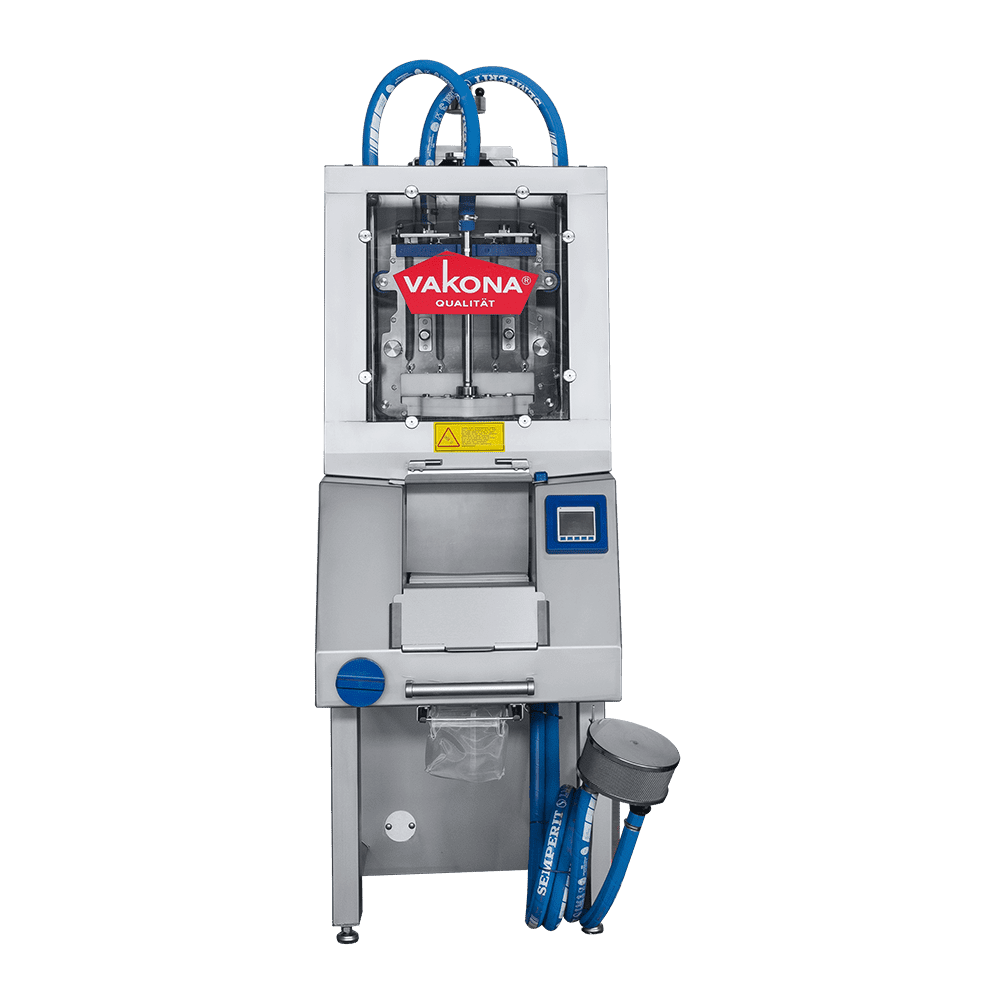 The automatic brine injectors are specially designed
for the requirements of the craft and SMBs.
Their outstanding features are:
Rugged construction
Compact design
High injection accuracy
Easy operation
Easy to maintain
High flexibility
Easy to clean
Standard equipment:
Direct mechanical drive for needle head and belt above the pickling compartment
Precision needle heads with quick-change needle bridge system
Mechanical suspension of each needle for products with bones
Complete separation of the entire pumping cycle from all electromechanical components
Standard stainless steel centrifugal pump
Product-related pump selection
Pre-filter system
Special conveyor belt made of polyethylene, easy to remove
Injection pattern can be varied by mechanically changing the conveyor belt feed settings
Additional controller for infinitely variable control of process parameters and 20 program locations for recipe management
Optional equipment:
semi-automatic filter system VHF
H version for fish and poultry
steaker knife device for products without bones
manual injection connection
Dimensions and technical data of the pickle injector PI
PI 17 V
PI 21 V
PI 26 V
PI 51 V
Injection needles
17
21
26
52
Length
1400 mm
1400 mm
1600 mm
1600 mm
Width
560 mm
700 mm
800 mm
800 mm
Height
1750 mm
1760 mm
1850 mm
1850 mm
Length of conveyor belt
1150 mm
1100 mm
1250 mm
1250 mm
Length of conveyor belt
265 mm
280 mm
345 mm
345 mm
Max. product clearance
180 mm
210 mm
optional 240 mm
210 mm
optional 240 mm
210 mm
Working height
820 mm
780 mm
930 mm
930 mm
Connected load
1,5 kW
1,5 kW
2,2 kW
2,2 kW
Weight
290 kg
320 kg
450 kg
480 kg
Due to the versatile optional equipment, the machine pictures shown may contain deviations. If you have questions, please contact us.
Dimensions and Technical Data – Technical alterations are subject to change – Exact mounting dimensions should be obtained